UpsnDowns Can Help You
UpsnDowns provides support and advice for children, adults and families affected by Down's syndrome in Northamptonshire. We work to increase awareness of Down's syndrome and to promote positive attitudes and approaches within the local and wider community.
Formed in 2006 by a group of local families in Northamptonshire, UpsnDowns now supports more than 40 young people with Down's Syndrome and their families. UpsnDowns are here for you whether you have just received a diagnosis, already given birth to your baby or you have a child with Down's syndrome. We would love to hear from you.
Run on a completely voluntary basis by a board of willing trustees, the charity's income is wholly dependent on fundraising. Individuals, companies and our own special events have all contributed to continued growth, enabling us to offer a wide range of services and activities such as; Speech and Language Therapy, Sing and Sign, Swimming Lessons and Occupational Therapy.
In addition, we fund training for teachers and support staff in Northamptonshire to ensure schools are fully inclusive and the specific learning profiles of our children are fully understood. This enables both mainstream and special school staff to provide exactly the right environment to encourage development and maximise learning potential.
It is these experiences that have formed the basis of our organisation where our children have flourished with consistent support, advice and guidance.
UpsnDowns is far more than a group just for our children; it is a network which provides support and friendship for mums, dads, brothers, sisters and extended families.
Whether you need someone to share a developmental milestone with, someone to talk to about a problem or just a shoulder to cry on, there is always someone here for you.
With the guidance of our dedicated trustees and the continued fundraising support we receive from so many, UpsnDowns is ready to meet the challenges ahead…and enjoy the ride along the way.
To get in touch with UpsnDowns, email This email address is being protected from spambots. You need JavaScript enabled to view it. or call 0777 1717460.
Get Ready to Swim for UpsnDowns in October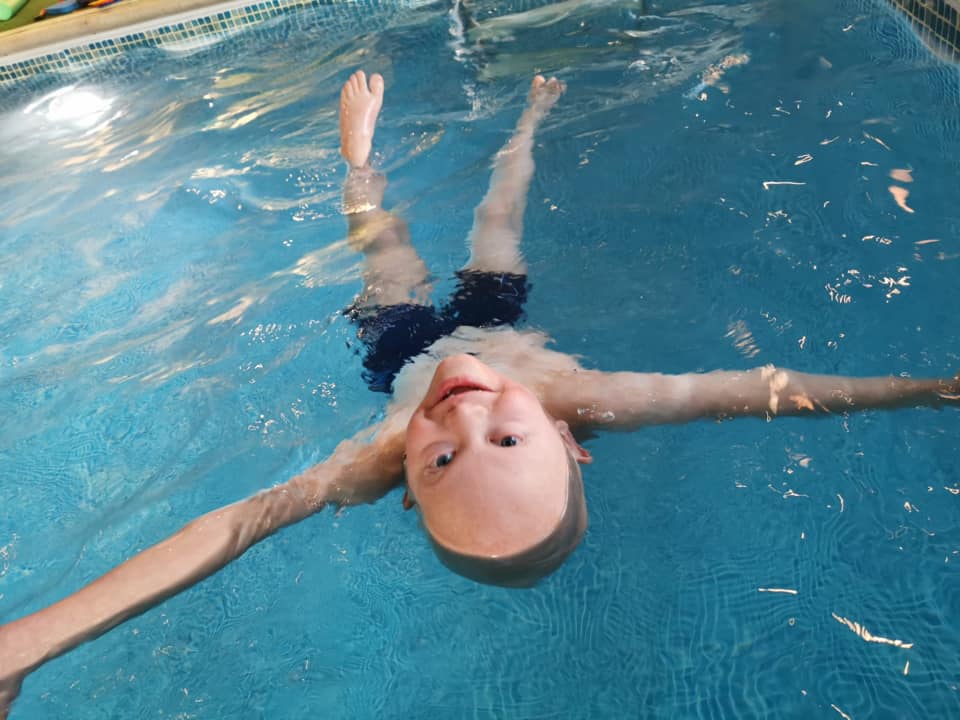 From Saturday 16th October - 23rd October, we would love everyone to join us in 'Swimming for UpsnDowns'. This is the final activity and last fundraising element of our charity triathlon in 2021.
In March, we were 'Walking for UpsnDowns' and raised £6,000, then in July we were 'Riding for UpsnDowns' and raised a record-breaking £12,000.
Imagine if we could raise a further £2,000 during 'Swimming for UpsnDowns', taking our total fundraising to a staggering £20,000. We are inviting all our member families and our wonderful supporters to join in and get swimming!
UpsnDowns members, here is how you can join in.
All you need to do is go to your local pool during the week of 16th-23rd October and set yourself a challenge, tell your friends and family about it and ask them to sponsor you or make a donation.
You could do:
A sponsored splash for an hour
A sponsored swim
A sponsored fun splash
Perhaps you could speak to your swimming instructor and do it as part of your lesson.
Corby Pool have kindly offered UpsnDowns members a 2-hour session on Monday 18th October from 4.45-6.45pm for a sponsored splash or swim. This is open to all UpsnDowns families, so please support this event if you can.
Finally, to celebrate a week of 'Swimming for UpsnDowns', Philippa, our swimming teacher and trustee, has organised for UpsnDowns members to go along to Waendel Leisure Centre, Wellingborough on Saturday 23rd October from 5.15pm. This fun splash and swim will be followed by a picnic tea, very kindly provided by Philippa.
For those members that can't make it to either of these sessions, you can head to your local pool at a time that suits you and take part in your own 'Swimming for UpsnDowns' event.
UpsnDowns Supporters and Fundraisers, please join us in 'Swimming for UpsnDowns 2021'.
For all the UpsnDowns supporters out there, we would love you to join in with this event and help us raise money for UpsnDowns through JustGiving.
Please just head to your local pool, swimming club or even an open water session, during the week of 16th-23rd October and challenge yourself to swim some lengths or set a distance.
If you know a local swimming club or triathlon club that might like to join in, please share this information about Swimming for UpsnDowns 2021.
You can set up your own JustGiving page or Click here for the UpsnDowns JustGiving page.
Thank you everyone. 🧡 Please share your photos and swimming updates with Faye at This email address is being protected from spambots. You need JavaScript enabled to view it. or tag us on social media.